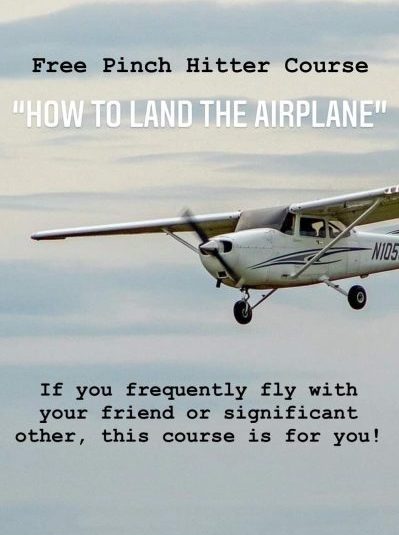 Free Pinch Hitter Course
This free ground school is for non-pilots that fly frequently with a friend or significant other. It is designed to give the basic knowledge needed to land the airplane safely in the event the pilot becomes incapacitated.
A few hours of flight time is recommended after taking the class to complete the training. (Flight time is not included).
Class will be on September 26, 2020 8:00am – 12:00pm at the Fulton County Airport terminal building.
No materials or previous experience needed. Contact Cliff Hill at cfi@cliffhill.com to reserve your seat! 
Useful Links for Students
- FREE Ground School!  Click here to learn more!
- FREE "Study Buddy" from Sporty's: A test prep computer program.
Get weather briefings and plan flights
FREE app that does everything ForeFlight does
App on iTunes: FltPlanGO
App on Google Play: FltPlanGO
Not a legal source for weather and navigation, but still good info.
- Video: How to Use the E6B Flight Computer
- FAR/AIM: 
- Boldmethod.com:
- Video: 5 Types of Altitude Explained
Find out all the information you ever wanted to know about any airport 🙂
Listen to real pilots and air traffic controllers in real time.
Not sure what that symbol means?  Look it up here!
This is not an official weather briefing site, but if you are a member of AOPA, you get to have free access to this helpful tool.